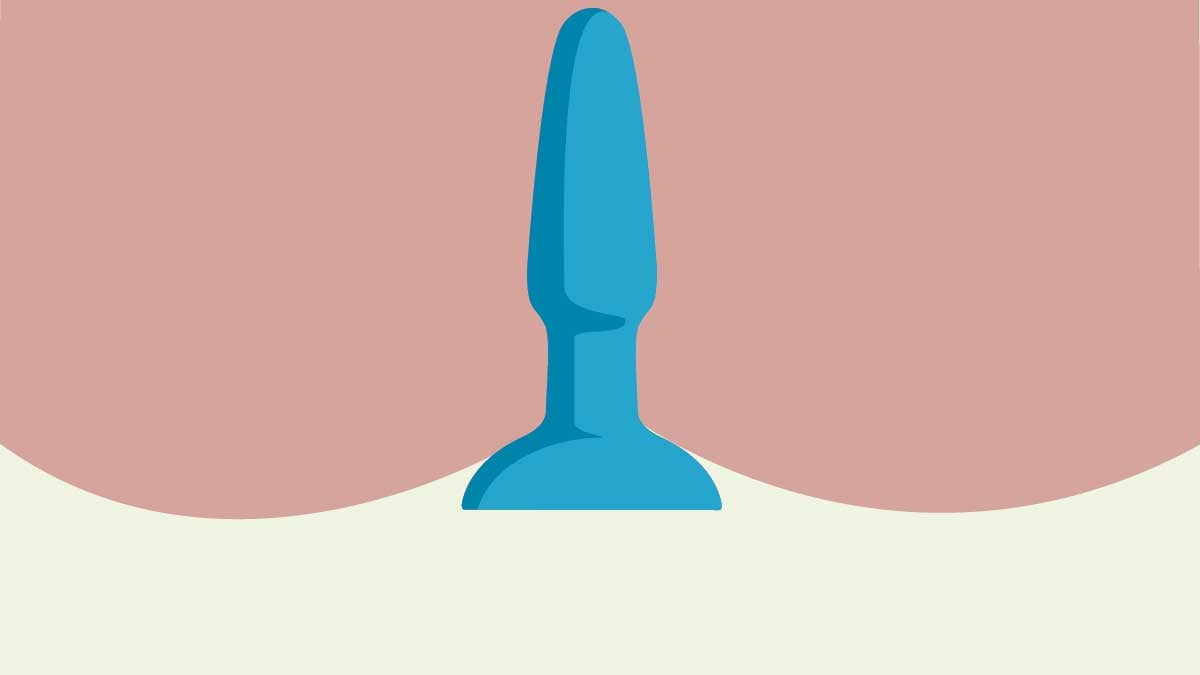 Anal toys such as a butt plug, prostate massager, or anal beads are great for adding lots of pleasure for men and women if they're used correctly and carefully. This guide teaches everything you need to know about using anal toys for anal play.
Anal play isn't for everyone. In the past, we didn't carry anal toys but added them a few years ago due to popular demand. Anal toys are hidden and can only be found by searching "anal" in the store.
Isn't anal sex a sin?
It depends on what you consider anal sex. The Bible forbids men from having anal sex with other men. The Catholic Church also forbids anal sex between a man and woman because the sexual act isn't open to creating life.
Anal play uses sex toys such as a vibrating butt plug to stimulate a man's prostate or woman's g-spot during foreplay or intercourse. Anal play doesn't involve a penis going into an anus. We believe this is acceptable as long as both spouses are willing and proper safety precautions are taken.
As with all sex toys, this is a personal decision between you and your spouse. Everyone's circumstances are different.
Anal Play Safety
Your butt isn't meant to have things stuck in it. It isn't like a vagina that's shallow, lubricated, and has thick walls. Your backdoor is deep, dry, and has thin walls. Here are tips that make anal play as safe and comfortable as possible.
Only use anal toys for anal play. All sex toys that are meant for anal play have a flared base or retrieval string. Never use a sex toy that doesn't have a flared base for anal play. Items that are stuck in there tend to get sucked in. The flared base acts as a stopper that prevents it from being sucked in. If you use anal beads, I'd leave the last bead out as an extra precaution.
Use lots of water-based lubricant. It's dry in there, and the walls are thin. Always use generous amounts of lube during anal play, so the marital aid slides in smoothly and comfortably and doesn't damage the inner walls.
Go SLOW and start SMALL. When you're trying anal play for the first time, starting small and going very slow is essential. Try using a finger first. You or your spouse should wear a neoprene glove and begin by massaging around the anus. Don't forget to use lube! Try this while giving your spouse cunnilingus or a blowjob. Once the receiver is very relaxed and ready, slowly push the finger inside. Once the finger is inserted, leave it there so the receiver can get used to the feeling.
The same technique should be used with any new toy. We suggest using a condom to protect your anal toy and make cleanup easy.
Never share anal toys with your spouse. There are lots of bacteria and other things living there. Sharing toys without thoroughly cleaning them or swapping condoms could get you sick. Each spouse should have their own anal toys that are stored separately.
How to remove an anal toy? Once an anal toy is inserted, your anal sphincter muscles will hold it in place tightly. Removing an anal toy can be painful or uncomfortable if not done correctly. First, relax, take a deep breath, and then exhale as you're slowly pulling the toy out. If it doesn't want to come out, try pulling it at a different angle. Don't panic or pull hard. Panicking will only make it harder to remove. Relax, and try again.
How to use a butt plug?
Butt plugs have a round tip for easy insertion, a tapered body and bulb that give you a full feeling, a neck that your anus holds on to, and a flared bottom that prevents it from being sucked in.
Men and women can use butt plugs. When men and women orgasm, their muscles contract in that area. A butt plug gives your muscles something to push against, which can magnify your orgasm's pleasure. When men wear a butt plug, it presses against their prostate and stimulates it during sex. When women wear a butt plug, it presses against their back vagina wall and stimulates it during sex.
How to use a prostate massager?
Prostate massagers have a curved shaft that reaches the prostate with a large end to stimulate the prostate, a neck for his sphincter muscles to hold on to, and a flared bottom that prevents it from being sucked in. Once the prostate massager has been inserted, the thrusting motion of sex will cause it to rub against his prostate and amplify his orgasm.
How to use anal beads?
Anal beads take advantage of the many nerve endings that are located around the anus. Men and women can use anal beads to amplify their orgasm. Insert the beads into your anus one by one until the last large bead hangs out. Many couples incorporate this into foreplay or right after they start intercourse. When you're having sex and are about to orgasm, you or your spouse slowly pull the beads out one at a time as you're having an orgasm. This technique stimulates the nerve endings and amplifies your orgasm.
Note: We do not recommend using a condom to protect anal beads. It's too easy for the condom to slip off.
I hope this helps you and your spouse enjoy anal play with each other. Remember to go slow, use lots of lube, and relax.