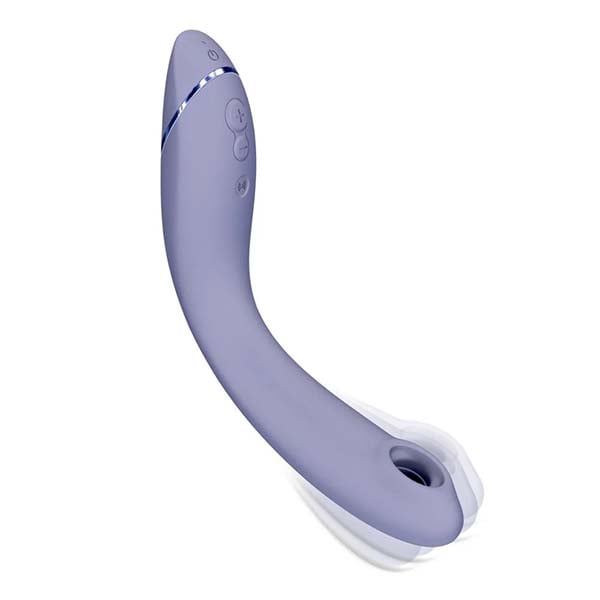 More Information
Pleasure Air Technology: Stimulate your g-spot or clitoris with gentle suction and massaging pulses from rapid changes in air pressure. Pleasure Air Technology provides a touch-free stimulation experience that leads to a new kind of incredible orgasm.
Smart Silence: The marital aid only starts when it's in contact with your skin and goes into standby mode automatically when you're not using it. This feature helps make the toy quieter and less distracting when it's not used. It's on when you want it and off when you don't.
Waterproof Design: This sex toy is IPX7-certified waterproof. Use it in the shower or bath with your husband. The waterproof design also allows easy clean up with warm water and mild soap.
12 Pleasure Air Levels: Womanizer OG's Pleasure Air Stimulator can go from a gentle purr to a mighty roar. The intensity levels from its g-spot stimulator are perfectly balanced to meet your mood.
3 Vibration Speeds: The vibrator shaft also vibrates in 3 intensity levels.
Simultaneous Stimulation: Combine shaft vibration and Pleasure Air stimulation to double the pleasure.
Curved Design: OG's curved shaft design makes reaching the g-spot or clitoris easy and comfortable. The shaft is flexible so that it flexes to fit your body.
Soft Surface: The entire vibrator is coated with soft, smooth silicone that feels great against the skin. It's body-safe and is made without phthalates, BPA, or latex.
Afterglow Mode: Short-press the minus button after climax to send the sex toy straight to its lowest setting for a relaxing end to your orgasm.
Rechargeable: USB charging cable, 120 minutes run time, 100 minutes charge time
Dimensions: 7 inches (total length) x 4.5 inches (insertable length) x 1.5 inches (shaft width)
5-Year Warranty
How to Use the Womanizer OG Sex Toy
Apply water-based lubricant to the clitoris and vaginal opening. The lubricant helps create a seal around the clitoris and enables easy insertion for g-spot stimulation.
Begin by cupping your clitoris with the Pleasure Air stimulator while it's on the lowest intensity. It's essential to get very aroused before stimulating the g-spot.
Once aroused, insert OG into your vagina until the Pleasure Air stimulator is cupping the g-spot. Take your time finding your g-spot. Move the toy shallow, deep, right, and left until you find your sweet spot.
Change the Pleasure Air and vibration intensity to your liking. A g-spot orgasm is unique and takes time to reach orgasm. Give the vibrator time to build sexual tension and work its magic.
Bonus tip: Add clitoral stimulation if things aren't moving as quickly as you'd like. You or your husband can use fingers or a vibrator to stimulate your clitoris.
UPC: 4251460616256