Description
How do I use the Ina 2 Dual-Action Vibrator sex toy?
It's rechargeable, so make sure it gets a full charge before taking it out to play. Press and hold the + button to turn it on. Use the + and – buttons to control the vibration speed, and use the up and down arrow buttons to choose from its eight vibration patterns.
The Ina 2 Dual-Action Vibrator can be used as a great Christian intimacy sexual aid by stimulating her g-spot with its vibrating shaft and clitoris with its flexible vibrating clitoral stimulator. It's whisper-quiet and 100% waterproof so that you can take it in the shower or tub with you. It also includes two powerful high-quality vibrators that produce sensations, unlike any other vibrator.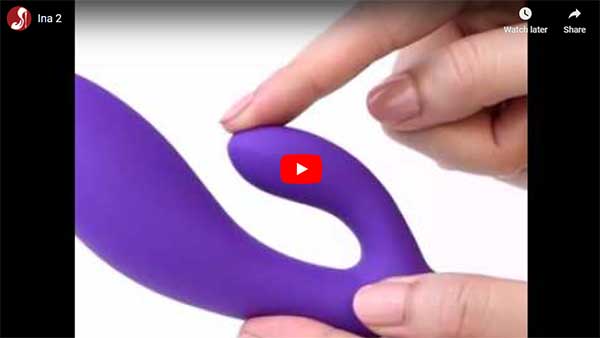 Ensure your Ina 2 Dual-Action Vibrator and all of your marital aids have a long, productive life by thoroughly cleaning them after every use. We highly recommend using antibacterial sex toy cleaner or warm water and soap to clean your marriage toys and let them air-dry overnight.
Details:
Materials: ABS Plastic / Silicone
Finish: Matte
Size: 200 x 62 x 33mm / 7.9 x 2.4 x 1.3in.
Diameter: ⌀ 37mm / 1.5in.
Insertable Length: 110mm / 4.3in.
Weight: 130g / 4.6oz.
Battery: Li-Ion 500mAh 3.7V
Charging: 2hrs at 5.0V 500mA
User Time: Up to 2hrs
Standby: Up to 90 days
Frequency: 120Hz
Max Noise Level: <50dB
Interface: variable interface dial, 8 modes