Description
How do I use the Stella Rotating G-Spot Massager?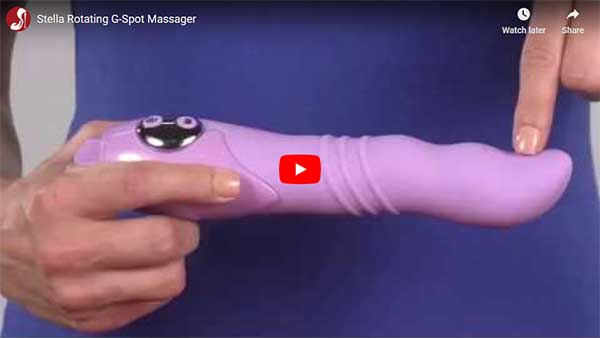 It doesn't include the required 3 AAA batteries, so you'll need to have some available before hopping in bed. Press the power button to turn it on and press the vibration and rotation patterns buttons to cycle through its vibrating and rotating patterns.
The Stella Rotating G-Spot Massager can be used as a great Christian intimacy sexual aid by stimulating her g-spot and vaginal opening during foreplay. Apply water-based lube to the head of the vibrator and your vagina. Insert the vibrator until the ribs are at your vaginal opening. Turn on the vibrator and rotation and gently move it in and out so that the ribs stimulate your vaginal opening.
Get more tips on using a g-spot vibrator to enhance lovemaking in your marriage bed.
Ensure your Stella Rotating G-Spot Massager and all of your marital aids have a long productive life by thoroughly cleaning them after every use. We highly recommend using antibacterial cleaner or warm water and soap to clean your marriage toys and let them air-dry overnight. It's also a good idea to remove the batteries from the vibrator when it's not being used to ensure long battery life.
Details:
Requires 3 AAA Batteries
5" x 1.5"/12.75 cm x 3.75 cm
Luxurious vibrating and rotating Silicone massagers
5 functions of independent vibration
5 functions of independent rotation
Easy push-button controls
Hold for 3 seconds to turn off
Silicone (massager, buttons) ABS (controller, cap) ABS with Silver Plating (décor)
UPC: 716770075246