Product Description
Tips on Using the Swan Curve
A few of our favorite, Christian tips on using this g-spot vibrator to further improve the quality of intimacy in your marriage bed.
G-Spot Stimulation: Use the vibrator's curve to reach and stimulate your wife's g-spot during foreplay. You could have you wife pre-program a vibration pattern using its Mimic Me mode before using it. You can also use the vibrator to stimulate your wife's g-spot while you give her manual stimulation or cunnilingus.
Clitoral Stimulation: Give your mouth or fingers a break while giving your wife manual stimulation or cunnilingus and stimulate her clitoris with this vibrator. Press the vibrator against your clitoris while making love to your husband for extra clitoral stimulation.
Get more tips on using a g-spot vibrator to enhance lovemaking in your marriage bed.
More Information
The Swan Curve's graceful arch is ideal for reaching your g-spot or clitoris. It's controlled using its unique "Squeeze-Me" technology. The stronger you squeeze, the more it will please! You can also use its Squeeze-Me technology to program your own vibration patterns using its Mimic Mode. This vibrator is coated with luxurious silicone and is waterproof so you can take it with you in the shower or tub. It's also rechargeable and lasts a little over two hours on a single charge.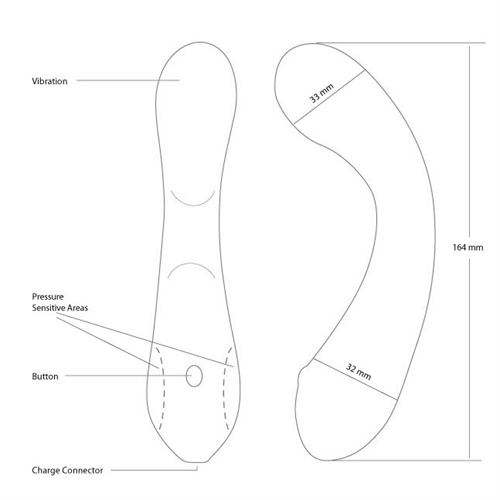 Specifications
Battery: Lithium 480MAH 3.7V
Run Time: Up to 2 hours 20 mins
Vibrating Frequency: High speed 5500 RPM±10%
Adapter: Input: AC 100-240V 50/60HZ Output: 5V 500MA
Weight: 139g (not including USB cord)
Composition: 100% high grade silicone shell, ABS, electronic components, Phthalate and latex free
Charging Time: Approximately 3 hours