Body massagers produce powerful, deep vibration that resonates deep within you and surrounds your entire clitoris with orgasm-inducing stimulation during foreplay or intercourse.
Makeup Of A Body Massager
Most body massagers consist of a cylindrical handle with a vibrating ball at one end. The vibrating ball is connected to a powerful motor located in the handle. The Magic Wand (displayed below) is by far our best seller and most powerful massager.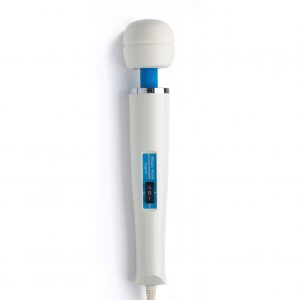 What Is A Body Massager Used For?
A body massager is used for external clitoral stimulation during foreplay or intercourse. Its powerful stimulation almost guarantees an orgasm and is used by women who want to orgasm quickly or those who have a difficult time having an orgasm.
A recent MarriedDance customer describes the power of her Magic Wand, "It's like it forces me to have an orgasm when I use it!"
The Journal of Consulting and Clinical Psychology published a 1979 study which found use of the Magic Wand to be the best method to achieve orgasm. In 2008, The Scientific World Journal published research finding over 93% of a group of 500 chronic anorgasmic women could reach orgasm using a Magic Wand! So ladies, if you have a difficult time having an orgasm, or you've never experienced one, this is the stimulator for you!
How To Use A Body Massager
We've put together some Christian-friendly tips for using a body massager to add intimacy in your marriage bed and spice things up without cheapening sex. If you have any additional tips or techniques, please leave them in the comments below so others can enjoy them too.
Before We Start: The powerful stimulation might be too much for some women to handle. If this is the case for you, try one of these techniques to dull the stimulation while using the methods below.
Betty Dodson Method: Take a soft hand towel and place it over your vulva while stimulating your clitoris with the massager. If it's still too powerful, fold the hand towel in half to dampen its vibrations more.
Desire Dial: Use the Desire Dial's variable speed controller to have much better control of the speed of your Magic Wand's vibrations.
Foreplay
Clitoral Stimulation: The wife or her husband simply presses the massager's ball on her clitoris and moves the ball up and down over it. This is a great technique to give her an orgasm or two before intercourse starts.
Clitoral Stimulation During Fellatio: Here's a great way to enjoy orgasm after orgasm while giving your husband fellatio.
Take a pillow and fold it in half.
Place a Magic Wand or other body massager on top of the folded pillow.
Kneel down, and then straddle the pillow so the Magic Wand's ball presses against your clitoris.
Have your husband stand in front of you or sit in a chair, couch, or edge of the bed while you give him a blowjob and enjoy heavenly clitoral stimulation from the body massager between your legs.
We highly recommend using the Liberator Wanda Sex Pillow to mount your Magic Wand while giving your husband a blowjob. Its firm shape and angled holder positions the massager in the perfect spot so you can enjoy breathtaking orgasms while giving your husband fellatio without worrying about a shifting, squishy pillow.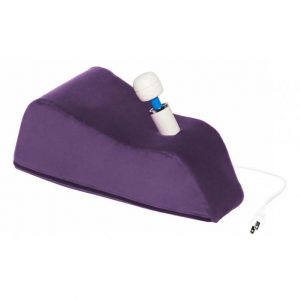 G-Spot Stimulation: Use a g-spot attachment (sold separately) to stimulate your wife's g-spot during foreplay.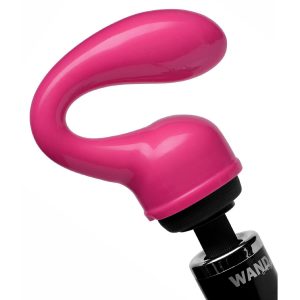 Penis Stimulation: Use the stroker attachment (sold separately) with lots of water-based lube to stimulate your husband's penis during foreplay. Simply apply a generous amount of water-based lube over the entrance of the sleeve attachment, and then lower it onto his penis, and make up-and-down strokes.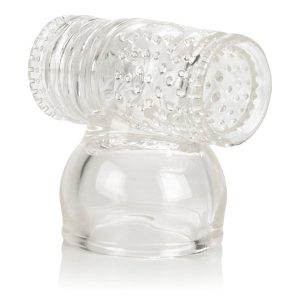 Intercourse
Clitoral Stimulation During Missionary Sex Positions: Press the ball of the massager against your clitoris while you and your husband are enjoying the Super 8 Missionary Style Sex Position from Christian-Friendly Sex Positions so you can enjoy orgasm-inducing stimulation during intercourse along with your hubby.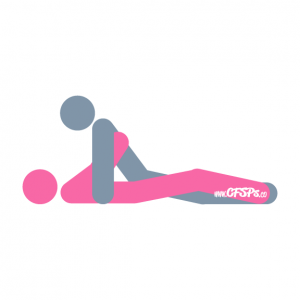 Clitoral Stimulation During Rear-Entry Sex Positions: Rear entry sex positions such as Doggy-Style enables great g-spot stimulation. Here's an easy way to use a body massager to add lots of clitoral stimulation during rear-entry sex positions.
Fold a pillow in half, and place the body massager on top of it.
Place the pillow between your legs, and lower yourself onto it so the massager's ball is pressing against your clitoris. You'll probably have to get really low and support your upper body with your elbows on the mattress.
Enjoy g-spot stimulation from your husband's lovemaking and clitoral stimulation from the body massager at the same time.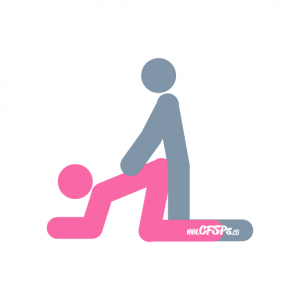 We highly suggest using a Liberator Axis Magic Wand Mount Sex Pillow for this technique instead of a squishy pillow that often shifts when you don't want it to. Its shape and easy access to the Magic Wand's power and speed button make it ideal for clitoral stimulation during rear-entry sex.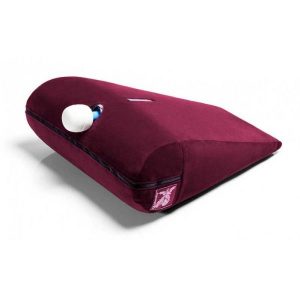 I hope our explanation of what a body massager is and how one can be used to add intimacy in your marriage bed was inspiring and helpful for your marriage bed. If you have any questions, we'll be happy to answer them for you.