Description
Tips on Using the FemmeFunn Ultra Wand
Here are some of our favorite Christian tips for using this wand massager to bring you to new heights during sex.
Clitoral Stimulation: Press the textured, silicone head of the Ultra Wand Marital Aid against your clitoris during foreplay or intercourse and enjoy earth-shattering stimulation.
More Information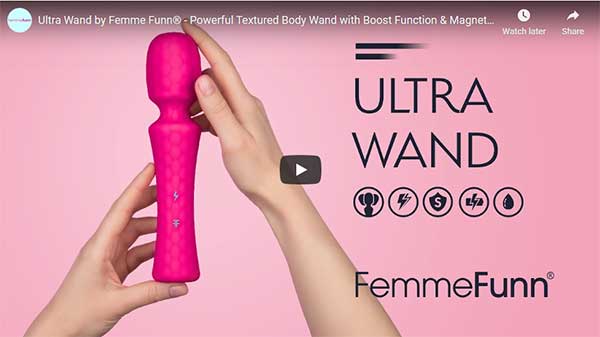 Silicone Body: The entire vibrator is coated with pure, soft, textured silicone.
Textured Head: Its textured head adds to its incredible stimulation.
Flexible Head: The flexible head bends where you need it the most.
Powerful Vibrations: Ultra Wand's super powerful vibrating head vibrates in 10 unique vibration patterns and speeds.
Boost Button: When you're about to reach orgasm, press the Boost Button to send you into orbit or orgasmic bliss.
Waterproof: This vibrator is 100% waterproof, so you can take the fun with you in the shower or bathtub.
Rechargeable: There's no need to fumble with batteries because this sex toy is rechargeable.
UPC: 663546901677