Description
More Details About the Ina Wave Rabbit Vibrator
Ina Wave was inspired by the 'come-hither' motion of your husband's fingers as he massages your g-spot. It also includes two ultra-quiet, ultra-powerful vibrators that simultaneously stimulate your g-spot and clitoris. It's rechargeable and will last up to two hours on a full charge. Ina Wave is also 100% waterproof so that you can take the fun with you in the tub or shower. Its vibrators dish out amazing stimulations in ten different vibrating patterns, from a teasing murmur to a satisfying pulse.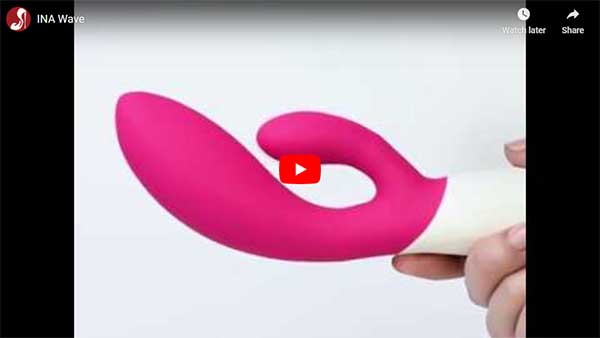 Tips on Using the Ina Wave
The Ina Wave is a great Christian sex toy for couples who want to add intimacy to their marriage beds. Here are a few popular tips on using this marital aid to enhance lovemaking.
Foreplay. Use the vibrator during foreplay to get her warmed up and ready for intercourse.
Orgasms. Ina Wave does a great job at giving her blended orgasms. Use the vibrator to give her an orgasm or two before and/or after intercourse.
Ina Wave Specifications
Materials: Body-safe silicone/ABS
Size: 60.14 x 195.49mm
Diameter: 37.09mm
Insertable Length: 120.3mm
Battery: i-Ion 500mA 3.7V.
Charging: 2h at 5.0V
User Time: 2 Hours
Standby Time: 90 days
Frequency: 100Hz
Max. Sound level: <50dB
Interface: 5-button interface