Description
For best results, apply lube to the inside of the cock ring, then ease one testicle through at a time before finally pulling your penis through. Unstretched inside diameter of penis ring is 1.5 inches, stretched diameter up to 4.75 inches.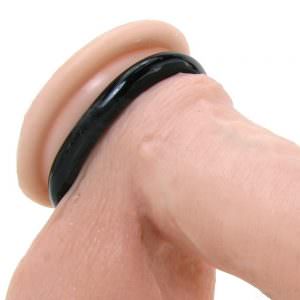 When a man ejaculates, the prostate's job is to shut off the bladder and push seminal fluid down the urethra. The testicles then contract and add sperm to the seminal fluid with the result of ejaculation. A c-ring holds the testicles down and keeps the testes from contracting, thus slowing down ejaculation.
Prolong ring is made using phthalate-free, non-toxic materials Silicone. Always clean before and after use. Climax control, cock ring, non-vibrating ejaculation prevention.
UPC: 830539002165