Description
Tips on Using the FemmeFunn Booster Bullet
Here are a few of our favorite Christian tips on using this bullet vibrator to improve the quality of intimacy in your marriage bed.
Clitoral Stimulation: Press it against your clitoris during foreplay or intercourse and enjoy powerful clitoral stimulation that's unmatched by any other vibrator of its size.
Fellatio: Press this marital aid firmly against the skin between your husband's balls and anus while giving him a blowjob so the powerful vibrations can stimulate his prostate externally.
Get more tips on using a bullet vibrator to enhance lovemaking in your marriage bed.
More Information
20 Powerful Vibration Modes: It has 20 ultra-powerful vibration patterns that satisfy even the most power-hungry individual.
Boost Button: Press the boost button as you're reaching climax for an unforgettable experience that launches you over the edge into orgasmic bliss.
Memory Function: Start where you finished so you don't have to spend time finding your favorite vibration pattern.
Very Quiet: This thing is almost completely silent! You don't have to worry about the kids hearing you buzzing away, but we can't do anything about the moans of pure pleasure.
100% Waterproof: It's completely waterproof so that you can bring this marital aid in the shower, bathtub, or jacuzzi.
Flexible: The solid silicone shaft is soft and flexible and forms to your body when pressed against it.
Rechargeable: Booster Bullet is rechargeable via a USB cable that magnetically attaches to the massager or case while charging.
Charging Case: It includes a discreet storage case that allows you to charge the vibrator while it's in the case.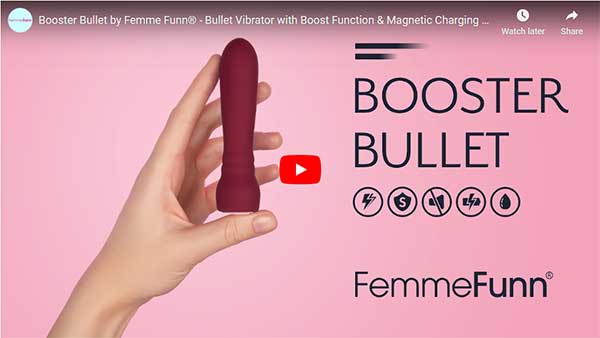 UPC: 663546901684