Description
Tips on Using the Ultra Bullet
Here are a few of our favorite Christian tips on using this bullet vibrator to improve the quality of intimacy in your marriage bed.
Foreplay: Use the vibrator to stimulate your wife's nipples and clitoris during foreplay. Cup the vibrator in your hand while it's on a low speed, and then cup your husband's testicles with that hand while giving your husband a blowjob.
During Intercourse: Press the vibrator against your clitoris while having sex with your husband and orgasm along with him.
Get more tips on using a bullet vibrator to enhance lovemaking in your marriage bed.
More Information
Ultra-Powerful: This compact bullet vibrator packs a serious punch with its mighty motor that vibrates in 20 patterns and speeds.
Quiet: The entire shaft is made of pure silicone inside and out, making this massager very quiet compared to most marital aids, even on its highest setting.
Flexible: Since the shaft is made of solid silicone, it has a little give and will bend a little to conform to your body.
One Button: It's controlled by one simple little button and includes a memory function, so you can quickly pick up where you left off.
100% Waterproof: The solid silicone design helps make this vibrator fully waterproof so you can take the fun with you in the shower or bath.
Carrying Pouch: It even includes a matching storage pouch to keep the vibrator clean and hidden during storage or travel.
It's also rechargeable and includes a 1-year warranty from the manufacturer.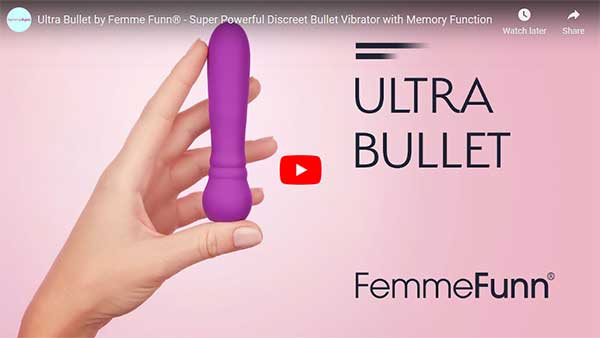 UPC: 617353155549