Description
Tips on Using the Eroscillator 2 Plus Soft Finger Combo
Here are some of our favorite Christian tips for using this clitoral stimulator to bring you to new heights during sex.
Foreplay: Get comfortable, and either you or your husband press the Soft Finger attachment gently against your clitoris and enjoy the slow but very intense build-up to orgasm during foreplay.
Intercourse: Get into a sex position that allows you to press the Eroscillator against your clitoris during sex and enjoy orgasm-inducing clitoral stimulation while making love to your husband.
It works great with the Cumonhispickle technique!
Tip: Be patient while using this toy and give it time to do its job. It usually takes about 15 minutes to build up tension that leads to an orgasm, but the orgasm it produces tends to last much longer and be much more satisfying than from a vibrator. This is an excellent marital aid for cuddling with your spouse during foreplay and enjoying the journey to orgasm.
What makes Eroscillator different from other sex toys?
Vibrators stimulate using a rapid pounding motion. The pounding movement does a great job of stimulating you, but it feels less natural, and "buzzy" vibrators can leave you feeling numb for a few minutes after use.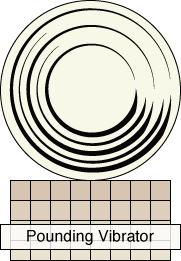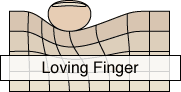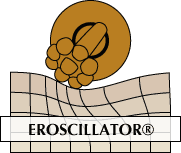 Eroscillator uses an oscillating motion that closely mimics a finger rubbing at up to 3600 oscillations per minute. This motion won't leave you feeling numb for a few minutes after use and generates a very satisfying orgasm.
Eroscillator Attachments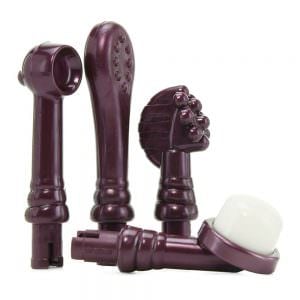 Ultra Soft Finger Tip: This attachment is the reason most women love the Eroscillator! It's made of medical-grade silicone and feels like a squishy marshmallow. Press this attachment against your clitoris, and the soft, broad stimulation feels like a finger on steroids.
Golden Spoon: This attachment is double-sided. One side includes a cup that cups your clitoris, and the other side is flat with eight dots. The golden spoon attachment is excellent for giving you strong, pinpoint clitoral stimulation.
Grapes Head: The grapes attachment is shaped like a ball with large bobs all over it. It's suitable for very strong, textured clitoral stimulation.
Ball Head: The ball head attachment is a ball with a few nubs on it. It's used to exercise your vagina. See the instructions for more information.
More Information
Discreet Design: This odd-looking device doesn't look like a typical sexual aid. Its ribbed shaft makes gripping easy.
Powerful: Eroscillator's oscillating motion generates unique, powerful clitoral stimulation that's unmatched by any other vibrator.
Easy Controls: Slide the silver strip up or down to cycle through its three oscillation speeds.
Long Power Cord: It includes a 12-foot long power cord that plugs into a receptacle.
Quiet: Eroscillator is pretty quiet while it's being used. Someone in a nearby room won't be able to hear it. We can't guarantee that they won't hear your moans, though!
UPC: 858797005131