Description
Tips on Using the Eroscillator 2 Plus
A few of our favorite, Christian tips on using this focused clitoral stimulator to bring you to new heights during foreplay and sex.
Foreplay: Use the vibrator during foreplay to stimulate your wife's clitoris for full-body orgasms!
Intercourse: Press the tip of this vibrator against your clitoris while making love to your husband in sex positions that allow and enjoy toe-curling orgasms during intercourse.
Get more tips on using this pressure wave stimulator to enhance lovemaking in your marriage bed.
More Information
It's been called the holy grail of sex toys and the hands-down best clitoral stimulator on the market and is the only product renowned sex educator Dr. Ruth K. Westheimer has ever endorsed. In the good doctor's words, "The Eroscillator really can make your sex life better. To my way of thinking, anything that accomplishes that goal is worth its weight in gold."
This incredible vibrator is the first of its kind, the Eroscillator 2 is highly recommended for women who experience difficulty achieving orgasm, as well as for any sexually healthy lady striving for more intense, full-bodied orgasms.
The main difference between the Eroscillator 2 and a traditional vibrator is the motion of the head. Instead of a vibrator's buzzy, surface level, multi-directional movement that's sometimes hard to focus on a specific body part for any extended length of time, this massager moves back and forth, oscillating steadily like perfectly timed, incredibly fast fingers. The head itself attaches directly to an axially oscillating engine, a design that focuses up to 3600 oscillations precisely against desired sweet spots – this, combined with the unique motion provides a much deeper sensation that can be felt throughout the entire vagina and beyond!
Aside from that incredibly direct attention to the clitoris, labia and vulva, the steady, unswerving, always reliable head won't desensitize or numb skin as strong vibration sometimes can. This feature makes multiple orgasms entirely possible since you won't need to rest between orgasms, or wait for the ultra-sensitive feeling that can remain after intense vibration to fade; some women have testified to being multi-orgasmic for the first time thanks to the Eroscillator 2. You'll feel the difference right away, and though it may take some time to get used to the sensation, which is noticeably different than more traditional vibrators, the extra effort and patience are definitely worth the wait.
With its sleek, user-friendly and eye-pleasing shape that's not phallic, or in any way obvious or obscene, the Swiss design takes both aesthetics and functionality into consideration with an ergonomic body that fits easily in hand, a full 12 feet of cord for all the freedom of movement you require, and the simple power switch that's always within easy reach. Unlike other full-sized massagers that are awkward to fit into many sexual positions and situations, the sleek shape and long head of the Eroscillator 2 is much friendlier to bring into the bedroom, not only because of low volume operation that won't distract but because of the shape itself. With a little experience, this tool will naturally vibe (so to speak) with sexual experimentation and enjoyment.
There are 4 sensual attachments included with the Eroscillator 2, each providing a unique feel.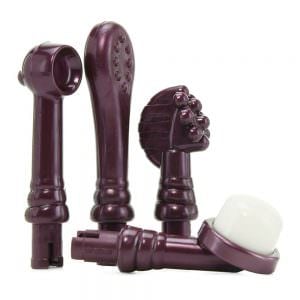 The namesake Soft Finger is the plushest of them all, a smooth rounded point of contact pillows out from a circular base, it's the best option when seeking a lifelike sensation. The soft, white pad feels like a heavenly marshmallow against your clitoris.
Complementing the Finger, there's the Golden Spoon, an oval-shaped cup with a circle of nubby droplets on one side.
The Ball and Cup, a perfectly round cup with a triple pattern of raised beads on the backside.
Grapes and Cockscomb features a concentrated pattern of intense spheres plus a textured ridge for incredibly pleasurable sensations against the clitoris and labia.
Each attachment is made from high-end TPR plus silicone elastomer (Soft Finger), both of which are hygienic, body-safe, and easy to clean. They attach easily and quickly to the oscillating tip, sliding on and locking into place with one motion for effortless customization.
A high-quality, water-based personal lubricant should be used with the body-safe ABS plastic, silicone, and TPR materials. The entire Eroscillator unit (excluding the power cord) is splash-proof for easy cleaning, but as with any electric device, do NOT use around or in water.