Description
Tips on Using the Klio
Here are some of our favorite Christian tips for using this thumping rabbit vibrator to bring you to new heights during foreplay.
Enhance Foreplay: Simultaneously stimulate her clitoris and G-Spot with Klio's innovative thumping stimulation and her A-Spot with its powerful vibrator during foreplay.
Where is the A-Spot? The A-Spot is located deep in the vagina on the upper wall right before her cervix.
More Information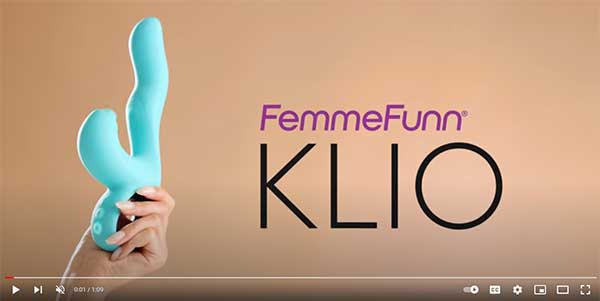 Thumping Stimulators: The Klio sex toy has external and internal thumbing stimulators that stimulate your clitoris and G-Spot with rapid tapping stimulation. The clitoral stimulator has 3 thumping speeds, and the internal G-Spot stimulator has 5 thumping speeds.
Vibrating A-Spot Stimulator: The tip of this vibrator reaches your A-Spot and stimulates it with 10 rumbly vibration modes.
Flexible Shaft: The shaft bends and flexes with your body to ensure a comfortable fit.
Body-Safe: Coated with smooth, soft silicone that feels great against your skin.
Waterproof: It's 100% waterproof, so you and your husband can use it in the shower or bathtub. The waterproof design also makes it easy to clean.
Rechargeable: This rechargeable vibrator lasts about 1 hour at its highest setting and takes about 2 hours to charge.
Size: Length 8.4 inches (5 insertable inches), Width 1.3 inches
UPC: 663546906351