Description
More Details About the Bloom Vibrating Kegel Balls
Bloom is a rechargeable silicone kegel balls set with three interchangeable weights (10 g, 30 g, and 45 g). Use Bloom to strengthen your pelvic floor muscles or as a remotely controlled internal vibrator. It's waterproof so you can take the fun with you in the shower or tub.
Toning and strengthening your PC muscle increases blood flow to it, enhancing sensations and making it easier to orgasm. Your muscles contract during an orgasm, so a toned pelvic floor can intensify your orgasms.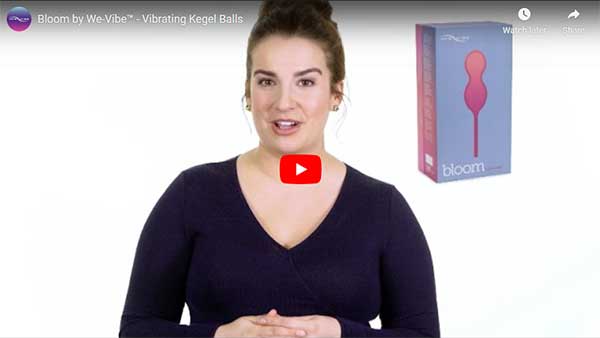 Tips on Using the Bloom
The Blood is a great Christian sex toy for couples who want to add intimacy to their marriage beds. Here are a few popular tips on using this marital aid to enhance lovemaking.
Kegels. Use the Bloom to do kegels and strengthen your pelvic floor muscles. Start with the lightest weight and progress to the heavier ones as you get stronger.
Internal massager. All work and no fun is no good. Use Bloom as an internal massager and control it using the We-Connect app on your smartphone.
Bloom Specifications
Powerful rumbly vibrations: Your workout will never be boring with over 10 different powerful rumbly vibrations.
Waterproof: Bloom is 100% waterproof making it easy to enjoy anywhere and simple to clean.
Low power alert: Know when your Bloom needs a charge, so it's ready to go when you are.
Comfortable design: A unique design made with silky smooth silicone that is soft and gentle on your body.
Rechargeable: Convenient and eco-friendly, Bloom is rechargeable and lasts for up to 90 minutes on a single charge. No need for costly and wasteful disposable batteries.
We-Connect: With the free We-Connect app, you can add pleasure by switching between preset vibes and customizing your own vibes.
UPC: 839289006393