Description
More Details About the Inspire Vibrating Dilator Kit
The Inspire Vibrating Dilator Kit includes two dilators and a bullet vibrator. Each dilator is waterproof and made using soft, smooth silicone for maximum comfort.
Two sizes are included for comfortable, gradual dilation. Each dilator has a smooth and sleek shape and a finger loop for easy use. The slender bullet vibrator is easy to insert into the base of either dilator. The simple to use design is operated by the single-click button. Insertion of the dilators restores and revives vaginal strength and can also be beneficial in easing discomfort. For a comfortable application, it is recommended that you use a quality water-based lubricant. Train your vaginal muscles to relax and become used to penetration. When you're ready for the next level, introduce the vibrating stimulator for added pleasurable sensations.
The dilators are also suitable for recovery use after surgery.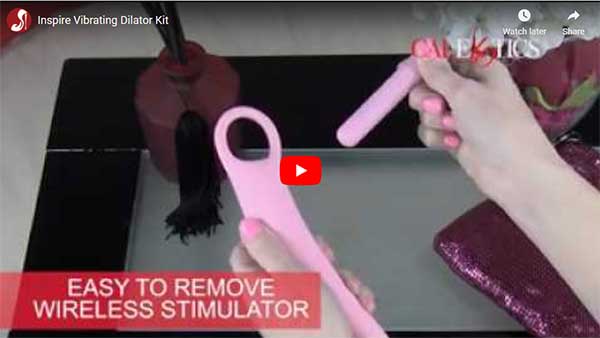 UPC: 716770088413