Description
More Information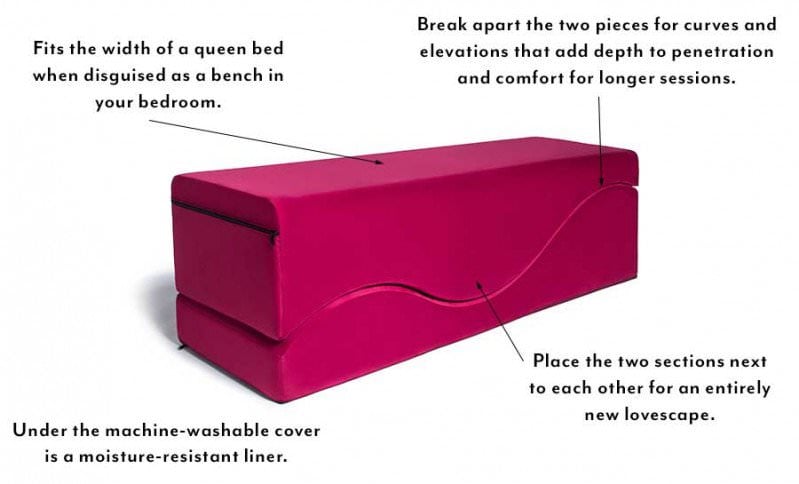 The Equus Wave Sex Chair includes two pieces that, when fitted together, looks like a bench that belongs at the foot of the bed. When you separate the two parts it becomes an amazing 5-in-1 sex positioning platform with many angles, slopes, curves, and elevations that enable a huge assortment of thrilling sex positions. It's made of a lightweight, high-density foam that supports both bodies without compressing. It's covered with a machine-washable, velvish cover and a water-resistant, inner liner that protects the foam. This shape is very lightweight compared to its size and is easy to move.
Genius is in the details, and the Equus Wave is the Einstein of sex furniture. Consisting of two lightweight Shapes, you have the option of using every angle and contour for maximum versatility. An inspiring alternative to the conventional marriage bed, the Equus Wave can be used as a sex bench, providing you with the perfect height for riding and straddling sex positions while maximizing thrusting power. The two distinctive Shapes each have curved slopes that are equipped for prolonged comfort during doggy-style sex positions and offer satisfying access for deeper penetration. Plus, their innovative design helps lift couples up during fellatio or cunnilingus by taking the strain off your joints and neck, which means you can last longer. Use the Shapes on the floor and get great leverage and penetrative thrusting power while in cowgirl or missionary sex positions. By using your feet, the pressure will be taken off your thighs and hips so that you can relax and enjoy the sensations all night long.
Tips on Using the Liberator Equus Wave Sex Chair
A few of our favorite, Christian tips on using this sex furniture to further improve the quality of intimacy in your marriage bed.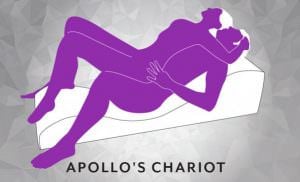 Specifications
5-in-1 sexual playground for unlimited positions and more sensational angles during foreplay and lovemaking.
Use it as an easily straddled bench with both feet on the ground for enhanced thrusting power during sex.
Ideal height and support for doggy-style and standing sex positions.
Use the two pieces separate for slopes and elevations that provide deeper penetration and comfort in doggy and cowgirl sex posiitons.
Lightweight and easy to maneuver.
Place them next to each other or on top of each other for an inspiring playscape.
Takes pressur off joints, elevates the body, and provides amazing access.
Fits perfectly and discreetly at the end of the bed.
The lush cover feels decadent against bare skin and is removable and machine-washable.
High-density foam prevents sinking and will keep its shape for years to come.
Measurement in inches: 60L x 20W x 18H
Shipping Information: This product only ships via UPS 3-5 Day Ground. More details.