Description
More Details About the Lelo SONA Cruise Clitoral Stimulator
This whisper-quiet sonic massager o­ffers an entirely new orgasm, a prolonged climax after a sensual build-up. Its smooth, waterproof design is made from a single piece of premium silicone, making SONA Cruise incredibly easy to clean and soft to the touch. And because it doesn't directly contact the clitoris, it can be used to generate multiple orgasms repeatedly without any discomfort.
SONA Cruise is a sonic clitoral massager. That means it doesn't rely on vibrations like conventional sex toys. Instead, it uses sonic waves and pulses to stimulate the entire clitoris, not just the outer part you can see and touch. SONA Cruise stimulates 75% more of your clitoris for a feeling that will change your life, one orgasm at a time.
SONA Cruise features eight different and intensely pleasurable settings so that you can find the perfect sensation for you. The interface has been redesigned, making the buttons easy to use with your eyes closed.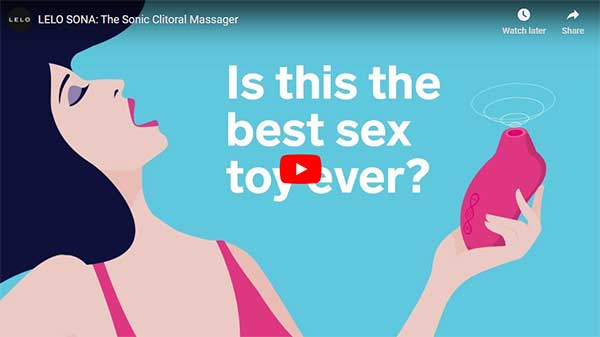 SONA Cruise is 100% waterproof. It also makes it super easy to clean. SONA Cruise is made from a single piece of silicone, and this one-piece design keeps it watertight, even at the charging socket. Perfect for the bath, shower, or hot tub.
Silence is golden. Because SONA Cruise is not like a conventional vibrator, it doesn't sound like one. It's quiet and restrained, perfect for users who need discretion. What's more, it's USB-rechargeable, so you can take it anywhere you go. An hour of charging will give you an hour of pleasure.
Cruise Control
Cruise Control is a feature and exclusive to the SONA Cruise. It reserves 20% of the stimulator's full power during regular use so that when it's pressed hard against your body and the motor begins to drop power, that extra 20% is unleashed so that there's no reduction of intensity. This feature is entirely automatic and eliminates the single most common complaint against stimulators, power reduction when you need it the most.
Tips on Using the SONA Cruise
The SONA Cruise is a great Christian sex toy for couples who want to add intimacy to their marriage beds. Here are a few popular tips on using this marital aid to enhance lovemaking.
Use the massager to stimulate your wife's clitoris during foreplay. She can also use it to stimulate her clitoris during intercourse for added clitoral stimulation.
Get tips on using this pressure wave stimulator to enhance lovemaking in your marriage bed.
SONA Cruise Specifications
Material: Silicone ABS
Finish: Matte, Glossy
Size: 99 x 88 x 56mm
Weight: 116g
Battery: Li-Ion 530mA 3.7V
Charging: 2h at 5.0V 400mA
User Time: 1h
Number of Modes: 8
Standby: 90 days
Frequency: 120Hz
Max. Noise Level: 50dB
Interface: 3-button interface