Description
Tips on Using the Satisfyer Luxury High Fashion
Here are some of our favorite Christian tips on using this clitoral stimulator to spice up sexy time in your marriage bed.
Difficulty Reaching Orgasm: This marital aid is for you if you have difficulty reaching orgasm or take a long time to reach orgasm. Its unique stimulation uses suction and rapid pressure waves plus vibration to provide clitoral stimulation that's almost guaranteed to quickly bring you to a powerful orgasm every time it's used.
Quiet, Powerful Clitoral Stimulation Anytime: Cup your clitoris with the soft, silicone tip of the Satisfyer Luxury High Fashion and engulf it with orgasmic bliss during foreplay or intercourse.
Get more tips on using this pressure wave stimulator to enhance lovemaking in your marriage bed.
More Information
Amazing Clitoral Stimulation: Cup your clitoris with the soft, silicone tip and stimulate it with this sex toy's 11 pressure wave intensities and 10 vibration patterns for some of the best stimulation possible from a marital aid. It uses gentle suction and rapid pulses of pressure waves combined with a vibrating tip to create a unique heavenly experience that almost guarantees an intense orgasm or two every time it's used.
Easy To Use Controls: Satisfyer Luxury High Fashion has three buttons. Two buttons control the pressure wave intensity and a third button cycles through the vibration patterns.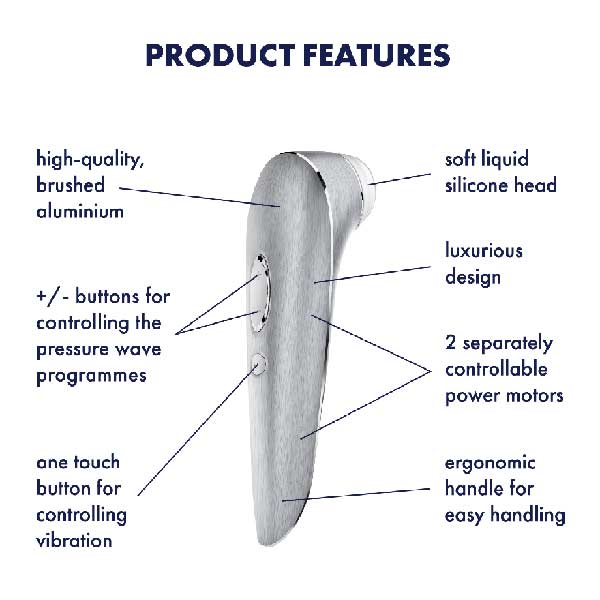 Made With High-Quality Materials: It's made using metal, genuine leather, and silicone.
Whisper Mode: So the people in the next room won't hear the motors. If we could only silence the moans you'll be making. 😉
Waterproof: This toy is 100% waterproof and can be used underwater. The waterproof design also makes it easy to clean.
Rechargeable: It's rechargeable and is charged via the included USB cable that can be plugged into any computer or USB wall adapter.
Warranty: 15-Year Manufacturer Warranty!
Storage Bag: It includes a fabric storage bag for discreet storage.
UPC: 4049369016549