Description
More Information About the Noa Couple's Vibrator
NOA is a sex toy for couples that enhances sensations during intercourse. The smooth, insertable tail is worn by the wife and leaves ample space for her husband, while the larger stimulator brings satisfying vibrations to her clitoris. This is a great vibrator that allows both spouses to experience orgasm during intercourse. Noa is waterproof, rechargeable, vibrates in six amazing patterns, and includes a 1-year warranty.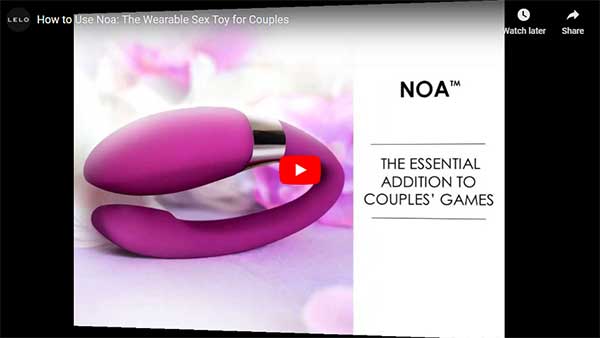 Tips on Using Noa
Here are a few suggested Christian-friendly ideas for using the Noa Couple's Vibrator intimacy aid to enhance lovemaking in your marriage bed.
Have your wife wear the vibrator during intercourse so you can orgasm together more easily.
Get more tips on using this couple's vibrator to enhance lovemaking in your marriage bed.
Specifications
Materials: FDA-approved, body-safe, silicone/ABS
Size: 84 x 42 x 28mm / 3.3 x 1.7 x 1.1in.
Insertable Length: 82.5mm / 3.25 in.
Weight: 31g / 1.1 oz.
Battery: Li-Ion 3.7v 70mAh
Charging: 2 h at 5.0 V 70 mAh
User Time: 2 hours
Standby: Up to 90 days
Frequency: 125 Hz
Max. Noise Level: 50dB
Contents: NOA, USB Charger, Storage Pouch, 1-Year Warranty