Description
More Information About the NEW PRODUCT
Enjoy powerful, positive vibes with Charged Positive, a 100% waterproof, rechargeable massager with a unique low-pitch motor and angled tip designed for a dramatically different pleasure experience. Charged Positive is equipped with 20 functions of deep, rumbling, penetrating vibration that satisfies even the most seasoned sex toy aficionado and makes it easy to pinpoint pleasure with precision thanks to an angled tip and soft surface. At its highest speed, it vibrates for more than 60 minutes! Charge Positive includes a charging stand that doubles as a finger cradle and makes it easy to hold it in place during use.
Charged Positive is made of lab-tested, body-safe ABS plastic with a PU coat for a soft-touch surface that glides across your skin. This powerful rechargeable vibrator comes with a 2-year limited warranty for technology you can trust.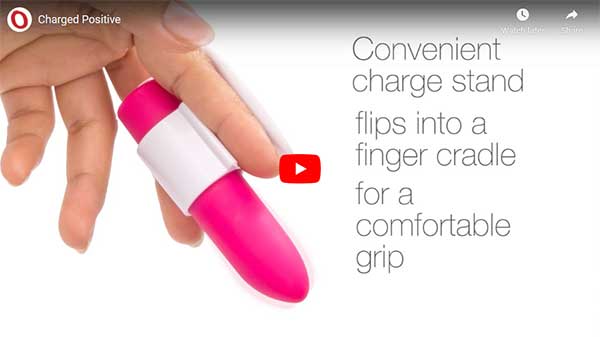 Tips on Using the Charged Positive
Here are a few suggested Christian-friendly ideas for using the Charged Positive Finger Vibrator intimacy aid to enhance lovemaking in your marriage bed.
Clitoral stimulation: Use the vibrator to stimulate your wife's clitoris during foreplay. She can also slip it in the included finger cradle and press it on her clitoris during intercourse for additional stimulation.
Breast stimulation: Rub the vibrator gently around the outer parts of her breasts and slowly circle into her nipples during foreplay.
Penis stimulation: Cup the vibrator in your hand and then cup your husband's testicles with your hand while giving him fellatio or a handjob.
Specifications
Intensely powerful rechargeable vibrator
Powered by new penetrating vibration technology
20 functions of vibration and pulsation
Soft-touch surface glides across the skin
Lab-tested body-safe ABS with PU coat
UPC: 817483012341