Description
More Details About the Gigi 2 G-spot Vibrator
Gigi 2 is a powerful, whisper-quiet g-spot vibrator that vibrates in 8 amazing patterns. It's rechargeable, waterproof, and made using high-quality silicone. It also includes a 1-year warranty, so your investment is protected.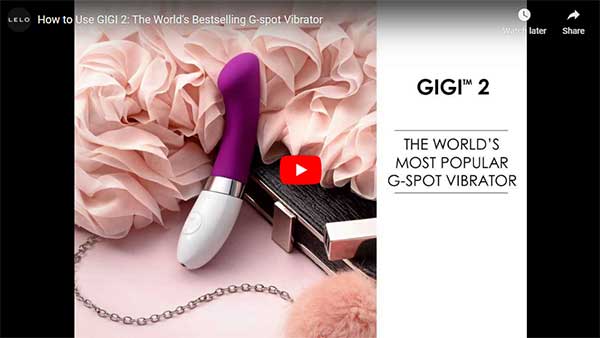 Tips on Using Gigi 2
The Gigi 2 is a great Christian sex toy for couples who want to add intimacy to their marriage beds. Here are a few popular tips on using this marital aid to enhance lovemaking.
G-spot stimulation. Use the vibrator to stimulate her g-spot during foreplay. It's a great addition to cunnilingus too!
Clitoral stimulation. Its flat tip is also useful for stimulating her clitoris during foreplay or intercourse.
Get more tips on using a g-spot vibrator to enhance lovemaking in your marriage bed.
Gigi 2 Specifications
Materials: ABS Plastic / Silicone
Finish: Glossy / Matte
Size: 165 x 35 x 33mm / 6.5 x 1.4 x 1.3in.
Diameter: ⌀ 37.8mm / 1.5in.
Insertable Length: 95mm / 3.7in.
Weight: 79g / 2.8oz.
Battery: Li-Ion 920mAh 3.7V
Charging: 2hrs at 5.0V 500mA
User Time: Up to 4hrs
Standby: Up to 90 days
Frequency: 100Hz
Max Noise Level: <50dB
Contents: GIGI 2, Charger, Satin Storage Pouch, 1-year Warranty.