Description
More Information About the Uma G-Spot Vibrator
The Uma G-spot Vibrator is designed with a motor set to a low frequency to give Je Joue's signature oh-so-low rumbling vibrations. Uma offers a wide range of vibrations with five speeds and seven patterns – from a gentle purr to a deep rumble. It's rechargeable and waterproof so that you can take playtime to the shower or tub. The low-frequency motor is very quiet, which makes playtime easy to keep discreet.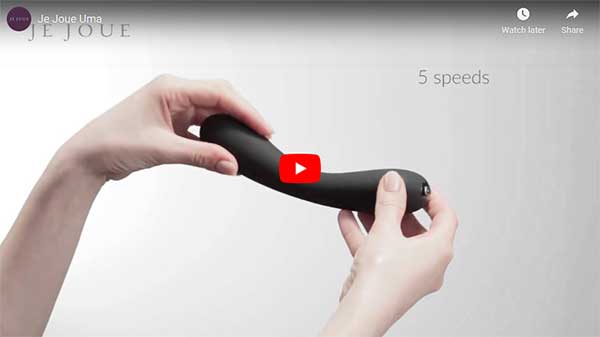 Tips on Using the Uma Vibrator
Here are a few suggested Christian-friendly ideas for using the Uma G-Spot Vibrator intimacy aid to enhance lovemaking in your marriage bed.
G-Spot stimulation: Once your wife is very aroused, use the vibrator's curved neck and large head to stimulate her clitoris with its deep stimulation.
Clitoral stimulation: The small, curved design also makes this vibrator ideal for clitoral stimulation during intercourse. Press the vibrator's head against your clitoris during missionary-style sex positions for additional clitoral stimulation.
Get more tips on using a g-spot vibrator to enhance lovemaking in your marriage bed.
UPC: 5060170970386