Description
More Details About the New Product Vibrating Penis Ring
The Charged Combo Kit #1 includes a rechargeable bullet Vooom vibrator that vibrates with deep rumbling vibrations, a soft, stretchy penis ring with clitoral stimulator the Vooom bullet fits in, and a soft finger sleeve that directs the vibrator's stimulation wherever your finger wanders. The Vooom bullet vibrates in ten breathtaking patterns and is waterproof so that you can take it in the shower or tub. A fully charged Vooom will last for about one hour of fun.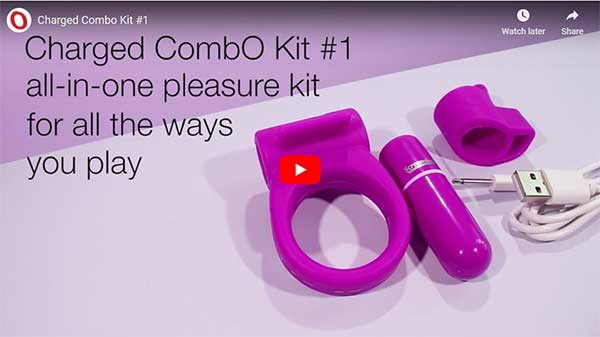 Tips on Using the Charged Combo Kit #1
The Charged Combo Kit #1 Vibrating Cock Ring is a great Christian sex toy for couples who want to add intimacy to their marriage beds. Here are a few popular tips on using this marital aid to enhance lovemaking.
Bullet vibrator. Use the bullet vibrator on its own as an external stimulator. It's great for stimulating nipples, the clitoris, and even testicles during foreplay or intercourse.
Vibrating penis ring. Slip the bullet vibrator into the soft, stretchy penis ring and wear it during intercourse for additional clitoral stimulation.
Finger vibrator. Insert the bullet vibrator into the soft finger sleeve and wear it on your finger. Watch your spouse squirm with delight as your finger wanders over them during foreplay.
Get more tips on using a vibrating penis ring to enhance lovemaking in your marriage bed.
Charged Combo Kit Specifications
Value-priced all-in-one sex toy kit
10-FUNction rumbling Vooom bullet
Stretchy two-sided penis ring and comfortable fingertip sleeve included
100% waterproof, 60+ mins vibration fun
Lab-tested, body-safe materials
UPC: 817483012679