Description
How do I use the Dual Clit Flicker?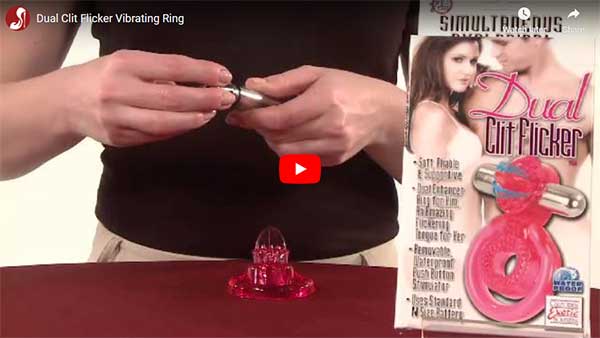 It comes ready to please with 1 N battery included. Turn on its powerful vibrator and let the fun begin.
The Dual Clit Flicker Vibrating Cock Ring can be used as a great Christian intimacy sexual aid by stimulating her clitoris during lovemaking. Generously apply water-based lube to both its rings' inner side and the shaft of hubby's penis. Stretch the inner ring and lower it to about halfway down his shaft. Carefully stretch the outer ring and place it around the base of his testicles, and then push the inner ring down to the base of his penis. The inner ring squeezes his penis and can help him achieve a firmer thicker erection. The outer ring squeezes his testicles and can prolong intercourse by delaying ejaculation.
Tip: Instead of pressing the vibrator firmly against her clitoris during sex, only let its flickering tongue lightly "lick" her clitoris and send her over the moon.
Get more tips on using a vibrating penis ring to enhance lovemaking in your marriage bed.
Ensure your Dual Clit Flicker Vibrating Penis Ring and all of your marital aids have a long, productive life by thoroughly cleaning them after every use. We highly recommend using antibacterial cleaner or warm water and soap to clean your toys and let them air-dry overnight. It's also a good idea to remove the batteries from the Dual Clit Flicker when it's not being used to ensure long battery life.
Details:
Dual support for him plus amazing vibrations and flickering tongue for her
Powerful removable push button stimulator
TPR (ring), ABS with silver plating (stimulator)
Soft and stretchy
Uses powerful N size battery (1 included)
3.5"x 2.5"/ 9 cm x 6 cm (ring)
2.75"x.6"/7 cm x 2 cm (stimulator)
UPC: 716770054562