Description
Tips on Using the Sportsheets Under the Bed Restraint System
Here are a few of our favorite Christian tips for using this bed restraint system to spice up sexy time.
For some people, being tied up while their partner has their way with them is a HUGE turnon. It's really fun for the giver and receiver! This bed restraint system can be used along with some awesome cunnilingus and blowjob foreplay techniques or your favorite sex toys during foreplay, or during intercourse.
More Information
Fits Any Size Mattress: This adjustable bed restraint system fits any size mattress. Your spouse's hands and feet can be restrained from the head and foot of the mattress or from the sides of the mattress.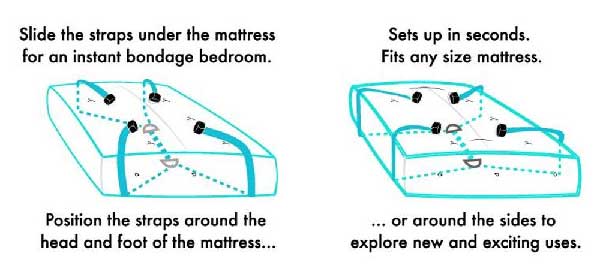 Discreet Storage: Stuff the straps and cuffs between the mattress and box spring to easily hide the restraints. Quickly and easily pull them out when it's time for some spicy playtime.
Travel Friendly: The straps and cuffs travel easily and are great for an adventurous weekend getaway.
Includes: 4 comfortable, velcro wrist/ankle cuffs (fits 4 – 12 inch wrists/ankles), 1 connector strap 60 inches, 4 straps 60 inches each