Description
Tips on Using the Toone
A few of our favorite, Christian tips on using this clitoris cuddler to further improve the quality of intimacy in your marriage bed.
Foreplay: Use its vibrating "ears" to stimulate your wife's nipples or clitoris. It's a great addition to manual stimulation or cunnilingus.
Intercourse: Straddle your clitoris with the vibrating "ears" while making love to your husband for a wild ride!
Get more tips on using a clitoris cuddler vibrator to enhance lovemaking in your marriage bed.
More Information
The Toone Clitoris Cuddler Vibrator includes two flexible "ears" that each contain a powerful Vooom vibrator that vibrates in a powerful, low-frequency vibrations that surrounds your clitoris with rumbly sensations. It's also rechargeable and lasts for about one hour on a single charge. The dual vibrators vibrate in 10 speeds or 10 patterns. It also includes a 2-year warranty.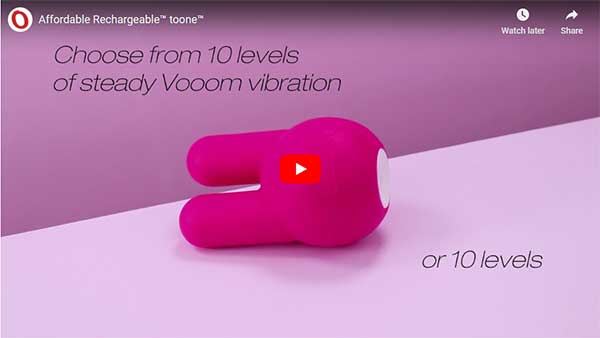 Specifications
Rechargeable flexible dual-motor vibrator
Two flexible "ears" with individual motors
Deep, rumbling Vooom vibration
20 FUNctions, including syncopated patterns and ten steady speeds
Made of lab-tested, body-safe True Silicone
UPC: 817483013225