Description
How do I use the Oyeah?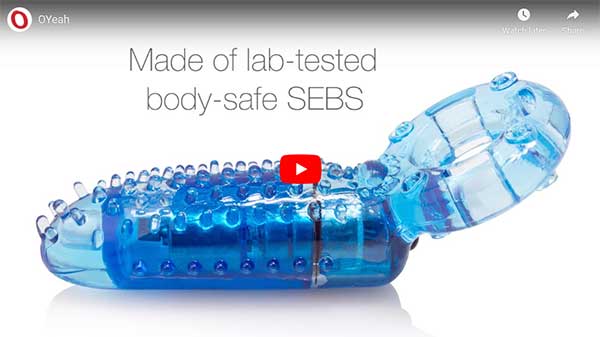 It comes ready for action with batteries already installed. Turn the powerful vibrator on and let its vibrations send you over the roof.
The Oyeah Vibrating Cock Ring can be used as a great Christian intimacy sexual aid by stimulating her clitoris with powerful vibrations during intercourse. Apply water-based lube to its inner ring and around the base of hubby's penis so that it fits comfortably. Stretch the ring and lower it onto the base of his penis with the vibrator facing up towards his stomach for missionary-style sex positions. Turn the vibrator down near his testicles during doggy-style sex positions. Its tight band holds firmly but comfortably around his penis, helping him keep a firmer and thicker erection.
Get more tips on using a vibrating penis ring to enhance lovemaking in your marriage bed.
Make sure your Oyeah and all of your other marital aids have a long, productive life by cleaning them after every use. We highly recommend using antibacterial cleaner or warm water and soap to clean your toys and let them air-dry overnight.
Details:
Vibrating erection ring with super-powered bullet
Unique vertical vibrator for ultimate clitoral contact
Stretchy, comfortable erection ring
Pleasure ticklers for enhanced sensations
Removable bullet for multipurpose fun
Reusable
Replaceable AG13 batteries last 80+ minutes
Waterproof
UPC: 854885001528