Description
How do I use the Flicker?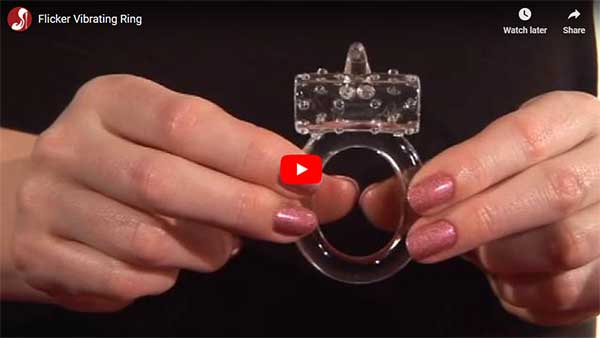 It already includes the batteries needed to power its vibrator, so it's ready when you are. Press the power button to turn it on and enjoy the ride.
The Flicker Vibrating Cock Ring can be used as a great Christian intimacy sexual aid by tickling her clitoris during sex. Apply water-based lube to the inside of the ring and the base of his penis to ensure a comfortable fit. Point the vibrator up towards his belly for missionary-style sex positions, and turn it down when enjoying a doggy-style sex position.
Tip: Instead of pushing the vibrator firmly against her clitoris, only allow its flicker to barely "lick" her clitoris and drive her crazy.
Get more tips on using a vibrating penis ring to enhance lovemaking in your marriage bed.
Ensure your Flicker Vibrating Penis Ring and all of your marital aids have a long, productive life by thoroughly cleaning them after every use. We highly recommend using antibacterial cleaner or warm water and soap to clean your toys and let them air-dry overnight.
Details:
Discreet, comfortable, stretchy enhancer with removable and reusable super-slim microstimulator
Stretchy TPE
Batteries included (2 watch, 4 included)
2.5"x 1.75" 6 cm x 4 cm (enhancer)
1.75"x .5"/4 cm x 1 cm (stimulator)
UPC: 716770037725